While society and the beauty industry promotes the image of having large breasts as desirable, many women suffer from having the same. Very large breasts cause issues like back pain, poor posture, breathing issues. In addition to physical pain and other symptoms, large breasts may also draw unwanted attention that can affect a woman's self-esteem and make her uncomfortable with her appearance. A breast reduction surgery is a suitable option for women undergoing similar issues.
Breast reduction at the Venkat Center Bangalore
What is breast reduction surgery?
This procedure removes fat and glandular tissue from the breast while tightening skin to produce smaller breasts that are more comfortable and in better proportion to the rest of the body. A breast reduction can help a patient regain confidence and enjoy a renewed self-image by creating a body contour she is proud of.
Breast reduction can either be done by liposuction for smaller breasts or surgically for larger breasts.
Who is a good candidate?
Women with large sagging breasts
Back pain due to large breasts
Good physical condition
No respiratory conditions, non smoker
What happens before surgery?
You will be evaluated and several measurements taken to decide which technique of breast reduction is necessary. For smaller breasts liposuction is advised. For larger reductions surgical reduction is preferred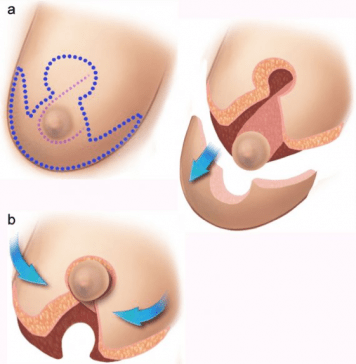 What happens during surgery?
The breast reduction procedure is performed under general anesthesia and takes about two to four hours, depending on the techniques used and each patient's individual case. IT is done as a day care procedure and patient goes home the same day. There are several different types of incisions that may be used for this procedure.
Traditional Breast Reduction Surgery – This technique involves an anchor or inverted T shaped incision, and is ideal for women with extremely large breasts. Skin, fat and tissue can be removed from the lower breast; the nipples and areolas may be re-positioned as well. There is one scar vertically down from the nipple. And another horizontal scar in the breast fold
Vertical-Incision Breast Reduction – Also known as short-scar, this technique involves incisions that extend around the areola and down to the breast crease in a lollipop shape. Vertical incision is ideal for women with moderately large breasts, and creates shapelier results with less scarring for women who do not require extensive tissue removal
Scarless Breast Reduction – Scar-less breast reduction uses liposuction techniques to reduce the size of the breast with little or no scarring. Because liposuction removes only fatty tissue, patients should have more fatty tissue than glandular tissue. This is done under local anesthesia.
What is breast reduction? Is it safe?
Whats is the recovery after surgery like?
If done under general anesthesia, the patient is kept over night. If done by liposuction then the patient is sent home the same day.
After the breast reduction procedure, patients will likely experience soreness, swelling and bruising for several days.
Bandages will be removed after two days and replaced with a surgical bra.
Physical activity should be limited for one to two weeks, while exercise and other strenuous activity should be avoided for at least four weeks.
Patients will return to the office to have stitches removed after approximately two to three weeks, at which point most will be able to return to work and other regular activities.
Know Your Surgeon
Dr. Aniketh has trained in all types of breast reduction during his USA fellowship. Hence he is ideally suited to choose the procedure that would best work for your condition.
To learn more, please give us a call or send an email to draniketh@venkatcenter.com.
Updated on 12 April 2019