Breasts are one of the most important aspects of the female physique. If you are unhappy with the size or appearance of your breasts for whatever reason, breast augmentation surgery can help achieve a look that you are comfortable with. There are many reasons for getting breast implants and because the surgery is so customizable, it continues to be one of the most popular plastic surgeries.
How is breast augmentation done?
Breast augmentation can be performed using three methods – Silicone Implants, Saline Filled Implants and Fat Grafting.
What are silicone implants?
They are implants designed to simulate the feel and shape of a breast made out a biocompatible substance called silicone.
Silicone implants can be inserted behind the breasts (called as sub-fascial or sub-glandular) or behind the pectoral muscle (called as sub-muscular or retro-muscular).
There is also a new innovation, where the implants are inserted in "dual plane", that means implant is located half under the muscle and half under the breast glands. This procedure is performed only in selected patients, post examination by a skilled plastic surgeon.
Saline filled implants are made of silicone bags that are filled using normal saline solution and the implants expand like a balloon. This procedure is reserved for reconstructive breast enlargement
Who is a good candidate for breast implants?
Women often seek out breast augmentation for a number of different reasons including:
Improvement in the appearance of small, disproportionate breasts.
Restoration of volume to the breasts after weight loss or pregnancy.
Breast asymmetry correction.
Improvement in the appearance of aging breasts.
What happens during the consultation?
During your consultation you will be evaluated and several measurements taken
How do I choose my implants?
There are several factors in choosing an implant
Texture: smooth or textured
Shape: round, tapered or the newer tear drop shape
Profile: low, medium or high projection
Diameter: the width of the breast implant
Based on your measurements and goals and using tissue planning principles, you will be advised on which implant would be best suitable to meet your needs
What happens during the surgery?
The procedure is done under general anesthesia with same day discharge
A small incision is made under your breast or below your nipple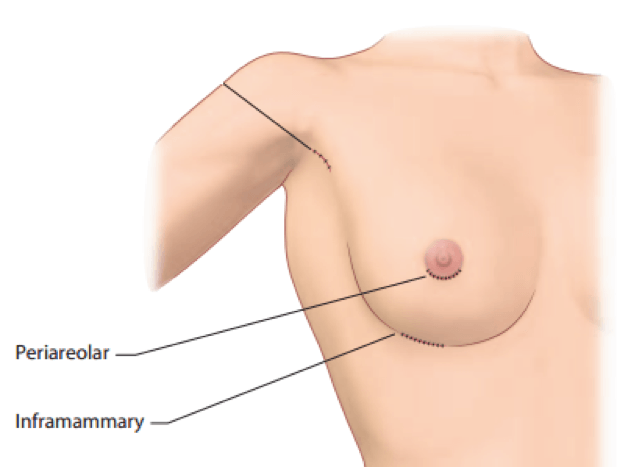 Working through the incision, we lift your breast tissue and skin to create a pocket, either directly behind the breast tissue (sub-mammary or sub-glandular placement) or beneath the pectoral muscle and on top of the chest wall (sub-pectoral placement).
Once the implant is positioned within this pocket, the incisions are closed with sutures and covered with surgical tape. A mildly compressive gauze bandage will be applied over your breasts to help with healing.
What does the recovery involve?
The surgery usually takes approximately 1-2 hours to complete. You're likely to feel tired and sore for a few days following your surgery, but you'll be up and around in 24 to 48 hours.
There are restrictions on heavy lifting and exercise for the first two weeks, and certain exercises should be limited for about six weeks.
Within a few days, the gauze dressings will be removed and you will be placed into a surgical bra. You should wear it as directed.
The swelling in your breasts may take a few weeks to dissipate and, during this time, your breasts will become more natural in appearance and feel.
What is capsular contracture?
This is a complication wherein your body produces extra issue around your implant and causes them to feel firm. This can happen months to years after your procedure.
To prevent this, we use special solutions to irrigate the implant and use a no touch technique. Dr. Aniketh is also writing a paper on this with the worlds expert on this top, Dr. Bill Adams of USA.
Know Your Surgeon
Dr. Aniketh has trained in breast augmentation with implants under Dr. Bill Adams, one of the world leaders in this procedure, and the creator of the high five system of breast augmentation. He is also working on a study with Dr. Adams on using antibiotic irrigation with implants.
To learn more, please give us a call or send an email to draniketh@venkatcenter.com.