Every year thousands of people choose to have cosmetic surgery performed on the eyes: eyelid correction (also called blepharoplasty). Eyelid correction is a relatively small procedure, which has dramatic results. After eyelid corrective surgery you look younger, more alert, less tired, boosting your self-confidence.
Blepharoplasty usually involves removal of excess fat or skin from upper and lower eyelids, thus restoring a refreshed look and giving the eyes a more plump and youthful appearance.
Who is a good candidate for eyelid surgery?
Specifically, blepharoplasty or eyelid surgery can help treat the following:
Excess fat deposit under the eyes, that makes eyes appear puffy
Sagging or drooping skin that deforms the natural shape of the eyelids
Wrinkles and fine lines under the eyes
Bags under the eyes
Drooping brow
Drooping lateral angle of the eye
Asian blepharoplasty- lack of crease in upper eyelid
Double chin liposuction, fat grafting and blepharoplasty at the Venkat Center
What does the blepharoplasty procedure involve?
The simple procedure usually takes around one hour and is performed with local anesthesia.
Small incisions are made in and around the upper and lower eyelids – to minimize visibility, incisions are always made around natural skin creases and folds.
Once the incisions are in place, excess fat and skin are trimmed away, and fine sutures are used to close the gaps.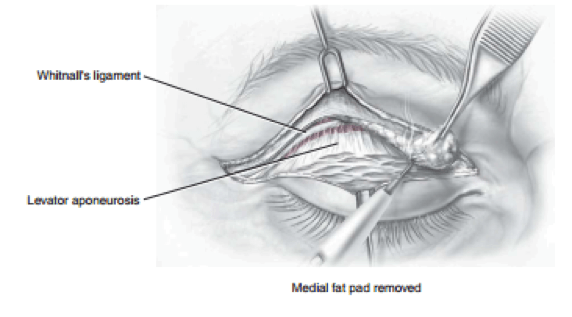 In "transconjunctival" eyelid surgery, which deals exclusively with the removal of excess fat in the lower eyelid, no sutures are used. The fat is approached from the inner surface of the eyelid so there are no suture lines on the skin
What else can be done along with blepharoplasty?
Browlift – Often, along with the eyelid, the eyebrow also droops and causes hooding. This can be corrected through the blepharoplasty incision itself. The brow is lifted and fixed to a predetermined mark without any additional scar
Canthopexy – Another sign of ageing is that the lateral angle of the eye falls to a lower level than the medial angle. This can also be corrected during a blepharoplasty
Comprehensive treatment
Along with blepharoplasty, we usually also perform fat grafting to restore any lost volume and correct all aspects of the ageing face.
What is asian blepharoplasty?
In some individuals, particularly from east asia, the upper eyelid is flat and lacks a crease. This give an unnatural 'mannequin' look. In these individuals, a crease can be created during surgery, and this technique is called asian blepharoplasty.
What does the recover after blepharoplasty involve?
Blepharoplasty is a relatively minor procedure without much downtime
Some swelling and bruising might be present for a week
Sutures are removed at 5 days
Eye drops may be needed in case of dryness
Strenous exercise if avoided for 2 weeks
Your Surgeon
Dr. Aniketh has trained with the world leader in eyelid surgery, Dr. Glen Jelks (https://jelksmedical.com/) in New York, USA.
Dr. Aniketh has also been trained in blepharoplasty by Dr. Verpale and Dr. Tonnard in Ghent, Belgium, who are also masters of facial fat grafting.
To learn more, please give us a call or send an email to draniketh@venkatcenter.com